If a tree falls … Bruce Cockburn joins the fight against Civic Hospital
The Hall of Fame singer-songwriter has given his support to the grassroots group Reimagine Ottawa, which promises to free the city "from developer-funded politics and planning."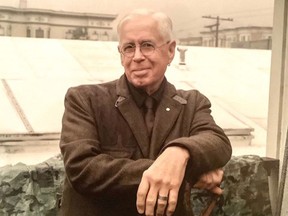 Article content
Ottawa native Bruce Cockburn has added his voice to those struggling to stop Ottawa Hospital's plan to build its new Civic campus on parkland near Dow's Lake.
Article content
Cockburn, 76, grew up in Westboro, and his father was a radiologist who worked at Civic Hospital.
"It comes to my attention that there are plans on the way to locate a new hospital where there is currently a popular park in part of the experimental yard," Cockburn said in a short video posted on YouTube earlier on ugen. In it, the singer-songwriter gives his support to the grassroots group Reimagine Ottawa, which promises to release the city "from developer-funded policies and planning. "
"Apart from my own sentimental feelings about a place where I enjoyed spending time as a child, the idea of ​​replacing precious green spaces with a hospital and its parking lots, which would be better located elsewhere, makes no sense," Cockburn says.
Article content
"Who benefits from this? I urge you to consider the arguments of Reimagine Ottawa and others who have studied this issue. Let us make sure the right choices are made."
The new $ 2.8 billion, 650-bed hospital has already received approval of the construction plan from the city and the National Capital Commission, and construction of its 2,500-seat parking garage in Princess Juliana Park near Dow's Lake could begin as soon as this spring. Work on the main hospital building will not start until 2024.
The new hospital will cover 40 hectares of land on Forsøgsgården and requires that about 750 trees be felled. Critics are also unhappy that no plans have been finalized to connect the hospital with the nearest LRT station, 400 meters away on the Trillium line.
Article content
The hospital says the city desperately needs a new, modern location for the region's only first-class trauma center and says it will plant five new trees for every tree that is felled. Ottawa Hospital CEO Cameron Love says the project will protect bike paths and walkways and laws " to create a spectacular hospital for future generations. "
Cockburn, who released his first record in 1970 and is scheduled to play the National Arts Center in April during a COVID-delayed 50th anniversary tour, is an Officer of the Order of Canada, has won 13 Juno Awards and has been inducted into it Canadian Music Hall of Fame. He received the Governor – General's Performing Arts Lifetime Achievement Award in 1998.
He is also known for his activism for social justice, campaigning to stop the use of landmines and supporting charities such as Oxfam and the Unitarian Service Committee. His perhaps most famous song, If I Had a Rocket Launcher, is a response to right-wing oppression in South America, while If a Tree Falls condemns environmental degradation.
He currently resides in San Francisco.