How Con Got COVID In St Basil's And Lived To Tell The Story
"For the past four or five days, nurses have been running around screaming, so many people died," he said. "People die now, they die later, one dies every day."
Mr Velissaris now lives in another retirement home, in East Doncaster, where his daughter Mary says he is doing well.
St Basil's continues to function as a retirement home, with the Federal Ministry of Health confirmed on Thursday that 49 residents now live there.
This week, family members made impact statements to Judge Cain and his counsel who assisted during the inquest, Peter Rozen, QC.
Many families are outraged that two central figures in the inquest, former St. Basil's chairman Kon Kontis and Vicky Kos, who was the director of nursing during the outbreak, both refused to testify on Wednesday.
They told the inquest that they would not provide evidence about their handling of the St. Basil's outbreak for fear they would incriminate themselves in future legal proceedings.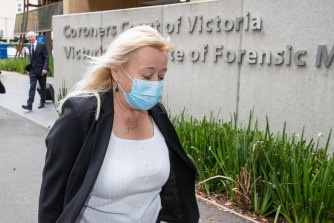 Mr Kontis appeared at the inquest on Wednesday but, asked by counsel who assisted Judge Cain, Peter Rozen, QC, to testify, said: "On legal advice I object to giving evidence as it may tend have to charge me in connection with an offense under Australian law."
Judge Cain has said he will decide next week whether to force the couple to testify.
Loading
The conclusion of the corona investigation on Thursday coincided with the Victorian Supreme Court ruling that a class action by families against St Basil's could go ahead.
The house, which is owned by the Greek Orthodox Archdiocese of Australia, had filed an application for the lawsuit to be null and void.
Justice John Dixon rejected the attempt.
The Morning Edition newsletter is our guide to the most important and interesting stories, analysis and insights of the day. Register here.